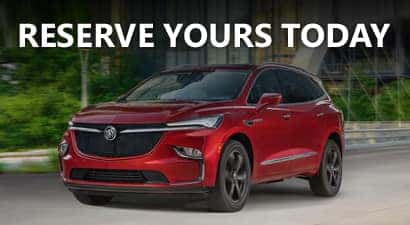 Reserve Yours Today
Reserve an incoming vehicle! Check out our selection.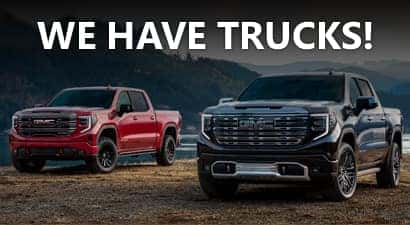 Explore Trucks
Browse our selection of New and Used Trucks.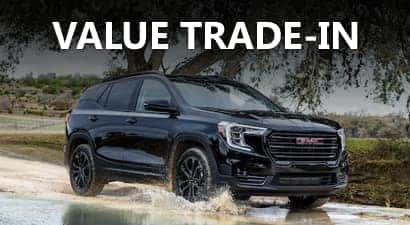 Value Trade-In
Get an online quote from Jack Giambalvo Buick GMC for your pre-owned vehicle.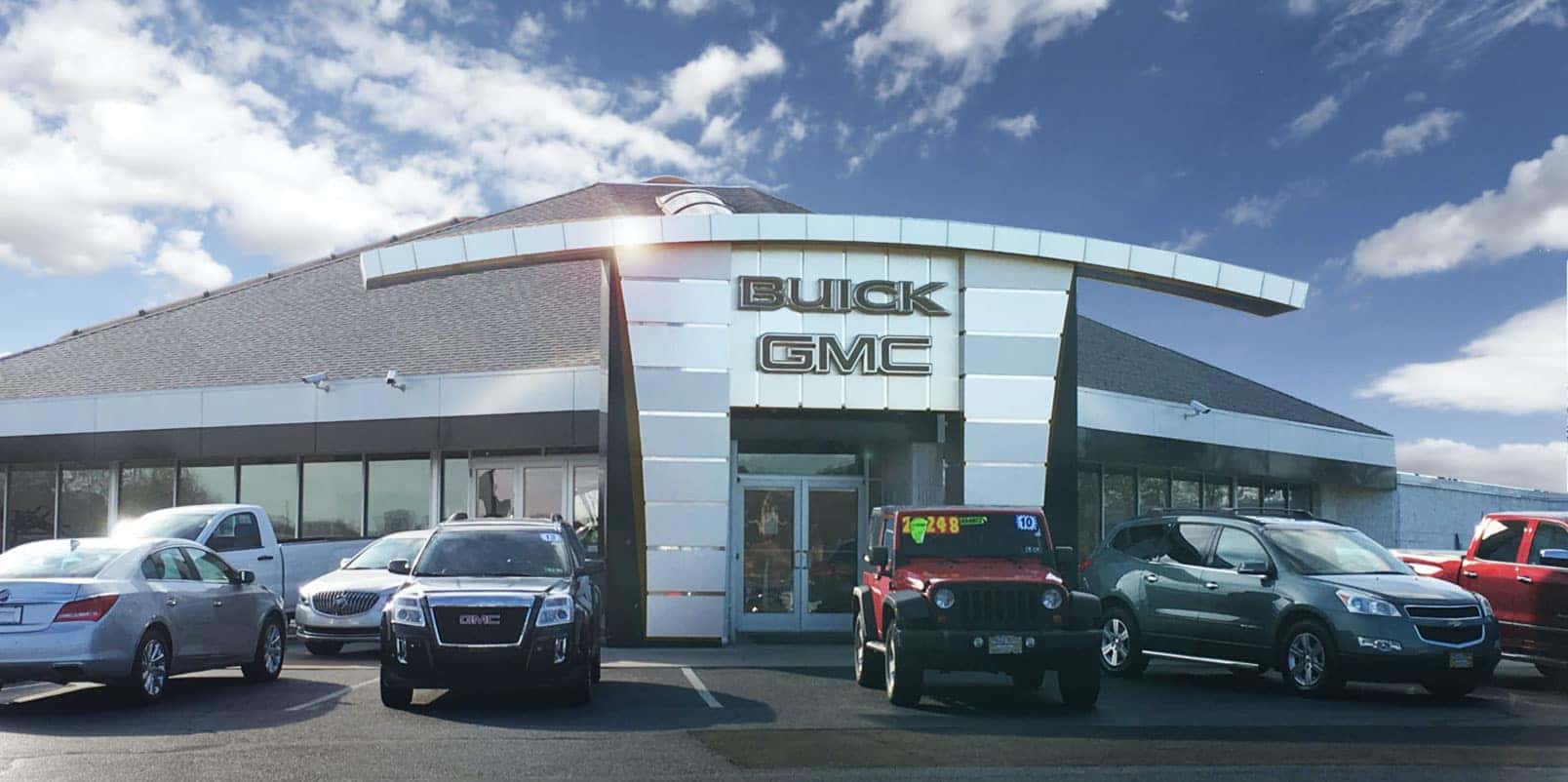 Welcome to Jack Giambalvo Buick GMC
A LANCASTER, HANOVER & LEBANON, PA BUICK AND GMC DEALER ALTERNATIVE IN YORK
For the best York County truck dealer, look no further than our dealership. Also serving Lancaster and Lebanon, PA GMC and Buick shoppers, we carry a great selection of the Sierra 1500 and 2500HD pickup trucks, with a ton of different options to choose from. If you are in the market for an affordable, premium vehicle, we recommend the LaCrosse. Named a Top Safety Pick by the IIHS, this sedan features a classy new look, complete with refined interior and state-of-the-art technology, both inside the car and under the hood. At our dealership, near Hanover and Harrisburg, PA, GMC and Buick vehicles are stocked in a large number, including the Acadia, Terrain, and Encore. To learn more or to view our complete inventory of popular models, please click here. We look forward to serving Harrisburg, Hanover, and Lancaster, PA GMC and Buick shoppers in York soon.
A YORK USED CAR DEALERSHIP SERVING HANOVER, HARRISBURG AND LANCASTER, PA BUICK & GMC DRIVERS
With an array of different used and certified pre-owned vehicles to choose from, Jack Giambalvo Buick GMC is the best York used car dealership, also serving Harrisburg, PA GMC, and Buick customers. You can even value your trade-in directly on our site before coming in for a test drive. For years, we have been a favorite Hanover, PA GMC, and Buick used car source. We also provide concise financing options for pre-owned and certified used cars. So stop by or contact us today and experience the Jack Giambalvo Buick GMC difference. Lancaster, Harrisburg and Lebanon, PA Buick, and GMC customers can check out our inventory today!
Hit the Road with Jack today at:
Jack Giambalvo Buick GMC
1390 Eden Road
York, PA, 17402

Walk into our York Buick and GMC dealership which is just minutes from Shrewsbury, New Freedom, and Baltimore!
SERVING HANOVER, LANCASTER, HARRISBURG, AND LEBANON, PA GMC & BUICK DRIVERS - SERVICE AND PART CENTER IN YORK
For years, Lancaster, Harrisburg, Hanover, and Lebanon, PA Buick and GMC customers have been trusting Jack Giambalvo Buick GMC to fulfill all their automotive needs. We provide best tire rotations, flat repairs, oil changes, and regular tune-ups. We know how much your vehicle means to you, and we are here to provide the kind of top-of-the-line auto repair or service you should expect from a dealer like Jack Giambalvo Buick GMC Buick GMC. We are located at 1390 Eden Road, near the intersection of I-83 and Highway 30. Please click here for specific driving directions and to view our hours of operation which include Saturdays for your convenience. On top of a superior sales experience, Jack Giambalvo Buick GMC Buick GMC in York is also proud to have a state-of-the-art service facility as well. Schedule an appointment today and let our trained and certified technicians handle everything from routine maintenance to major repair work. We also have a parts and accessories department for your upgrade and replacement projects. Get your vehicle repaired at our auto repair and service center near Lancaster. It would be our pleasure to serve all of Harrisburg, Hanover, and Lebanon, PA Buick & GMC customers' needs.
JACK GIAMBALVO BUICK GMC IN YORK - YOUR REPUTABLE HARRISBURG, HANOVER AND LEBANON, PA BUICK AND GMC DEALER ALTERNATIVE
Thank you for visiting our site. As your premier York, PA Buick and GMC dealership near Lancaster, we pride ourselves on our outstanding service and commitment to customer satisfaction. We hire only the friendliest and most knowledgeable staff to help you purchase the vehicle of your dreams in a hassle-free environment. Discover the attractive certified auto service and repair offers for Lebanon and Lancaster, PA customers at Jack Giambalvo Buick GMC Buick GMC. We have skilled technicians that offer various services including oil changes and breaks repairs. Lancaster and Hanover, PA Buick and GMC enthusiasts can start their search online by browsing our new and used inventory, which is updated daily, or research financing options. We also invite Harrisburg and Lebanon, PA customers to take advantage of our popular quick quote feature for any of our models that catch their eye. We welcome all our Buick and GMC customers to our dealership to take a closer look at our extensive inventory. Visit our auto repair and service department near Lancaster for all your vehicle requirements, or give us a call today. We hope to see you soon!
Ask A Question
Our Reviews
never had a bad experience with anyone at this dealership, anytime I purchased a vehicle there! my regular salesperson is Bob Mailman and he was great to work with.
Great as usual people super place great??????
Quick, efficient service from a friendly, respectful, knowledgeable staff! Also, comfortable, clean customer lounge. Thank you!
Lance Joy and I just want to take the time to personally thank you for helping us with the recent purchase of the 2022 Buick Enclave. You went above and beyond to make sure we received the best customer service, and that's a rare commodity these days. Joy and I sincerely appreciate the fact that you personally took the initiative to make this transaction seamless and pleasant, while personally delivering the Buick to are home. These days you do not see this type and dedication and motivation, that provides great service and loyalty to customers. I wish you the best, and thank you for all you do Sincerely Ron & Joy DeMelio
Lance Sease Joy and I just want to take the time to personally thank you for helping us with the recent purchase of the 2022 Buick Enclave. You went above and beyond to make sure we received the best customer service, and that's a rare commodity these days. Joy and I sincerely appreciate the fact that you personally took the initiative to make this transaction seamless and pleasant, while personally delivering the Buick to are home. These days you do not see this type and dedication and motivation, that provides great service and loyalty to customers. I wish you the best, and thank you for all you do Sincerely Ron & Joy DeMelio
they took care of me without an appointment and worked me in.great service dept
My salesman, Kurt, was very knowledgeable and helpful. My transaction was smooth and effortless. Very happy so far with my new car.
well done and courteous. nice facility. competent workers.
Lance Sease "knocked it out of the park again!"He is always available and willing to assist a customer in need-even on New Years Eve!! He is a wonderful sales associate way beyond the sale! He is such an invaluable resource! JG dealership should be pleased to have such a top notch employee!! Thanks Lance for help! Joe & Theresa Chiodi
Awesome experience from start to finish. Very professional and knowledgeable staff. The finance manager got my daughter a great rate even though she was a first time driver. We would definitely recommend!
This is my first time buying a car from JGB and my husband and I couldn't be more pleased with our experience! I wasn't sure that I was in the market to purchase a car but Lance Sease changed all of that and we are happy that he did! He is a Rock Star!! He made the entire process very easy and enjoyable! He is extremely talented and throughout the entire, easy (no pressure) process he had the innate ability to get feedback from us and he knew just what car we wanted. I would wholeheartedly recommend Lance to anyone who is looking to buy a vehicle. Thank you Lance for all that you did to make this a special event! Theresa & Joe Chiodi
We were searching for a used truck that was still in good condition, and found it at the Giambalvo dealership. We were a little concerned after reading the reviews online but decided to go for it and set up an appointment. Our experience was nothing short of exceptional. We arrived at the dealership and spoke with Ben Catlin, who was very pleasant. He allowed us to take the truck to our local mechanic to check it out since it was being sold as-is (due to the age of the vehicle). After the garage gave the OK, we came back and were able to negotiate on the price. We hit a blip when they ran our credit because I forgot that I froze my credit score. They were very accommodating and gave us time to sort that out. When we came back, we signed the paperwork and drove off with our truck! Couldn't have been a more pleasant experience with very nice and knowledgeable staff. A++
I have nothing but good to say about Jack Giambalvo GMC. The entire team continuely goes above and beyond . Very friendly and professional and very polite personnel Totally Stress free dealership . Our salesman's business card speaks the truth . Bob M. Does not just sell cars he makes friends and we countiue to experience the hospitality from everyone. The service department is excellent . And this dealership is so worth our 2 1/2 hr ride from our home. And by the way I love my 2017 Sierra Denali HD Ron and Nancy W. Woolrich, PA
I was looking for a used encore. I have bought 2 cars already from the franchise. Went to buy the 3rd. Picked the car out but the sales department wouldn't deal on it. I offer a price they said no. I went to hanover saw same car make model and package. $2500 cheaper with 10k less miles. So i bought it. Still under warranty had an issue took it buick in york service department was one of the best. They did a great job. And very friendly. A week later i see that they lower the price to what i offer. They could of had the sale a week ago. Maybe time to look for a new sales manager.
On Jul 18, 2017 you gave us this review: 5.0 /5 Wonderful purchase experience. Great price, very friendly sales dept. My truck was detailed and ready to go when I got there to pick it up. They thoroughly explained all the features of the truck. I would highly recommend them.
I went to Jack Giambalvo on a very rainy Saturday and ask the salesman Bern Little to please skip the haggle and let's get to the bottom line! He and Missy in financing did just that!! After my vehicle was appraised, we were able to settle on a price for the new/used vehicle. Because I live in Maryland I had to wait until Monday for the vehicle to be Maryland State inspected, which it was, and my wife, son and myself accepted delivery Monday evening, no issues!! I would recommend this dealership to anyone and am very glad I found the vehicle online at this location. JDH
My wife and I were browsing for a GMC Terrain and decided to drop by Jack Giambalvo on a wet, rainy, cold day. But that didn't matter to Bern (Bernard Little), he was ready and willing to assist us no matter what. We walked into GMC not knowing anything about the vehicles, service, offers, warranties, and company, but walked out of there full of knowledge and understanding thanks to Bern. He was a great salesman and took really good care of us. We ultimately decided not go with GMC, for reasons outside of Bern's control, it was simply a vehicle decision for us. But Bern deserves high marks.
My husband and I were looking for a reasonably priced mini van to accommodate our growing family when we came across Jack Giambalvo's website. We are a one income household on a budget, and we wanted to stay within it without feeling pressured to spend more. Because we are new to the York area, we were doubtful of finding a reputable dealership, but once we started working with Lance we knew we had come to the right place. Lance did ALL of the footwork for us and we found him to be friendly, straight forward and not assertive at all! He gave us time to talk together as a couple and did not rush the process. He was knowledgeable about the vehicle, educated about the warranty, and answered all of our questions without the typical run around you find in dealerships. Lance did exactly what he said he would, gave us the price we were asking, and sent us on our way. The General sales manager Joel was great as well. Again, he gave us the numbers we were looking for, and didn't try to pull the usual tricks you expect from a sales person.The environment in the dealership was clean, friendly and inviting, and there seemed to be a mutual respect among the sales team which was nice to see. Last but not least, as a woman I also found it refreshing to deal with a sales team who treated me with respect, and did not dismiss my opinions or questions because I was " a girl." All in all it was a fantastic buying experience, and we look forward to working with the sales team at Jack Giambalvo's in the near future. Thanks again Lance, you were a true professional!
I work for a company the is a GM supplier, so I knew that I would get a great deal from any dealership that sells General Motors cars. I bought a car from Bill Gibson at Jack Giambalvo Buick/GMC 4 years ago and was so pleased with the experience, that I didn't even consider any other brands. I was determined to buy a car from Bill, so I limited my choices to the brands he sold, which were Buick and GMC. I had experienced a job loss since my last purchase, so my credit wasn't as clean as it was the last time. Bill and the finance team made the process extremely pleasant. I didn't think I would qualify for a new car loan, and was considering buying a beat up used car, but the Giambalvo team made everything work out for me. I plan to see them again, when I need to replace my next car.
great car buying experience, very friendly, easy to work with, no high-pressure sales, everything went very smoothly, nice car with low mileage at a reasonable price
Very friendly atmosphere. Lance was great, and wow, they didn't take forever to make a deal, the time actually passed very fast. Even with the financial lady Lita - - wonderful experience. Judy Heuer
I returned to this dealership to buy another truck because my experence here has been second to none in the past. I'm happy to say things have not changed, this dealer really cares...There service department is the best around and are always willing to help even if a repair is out of warranty they will do their best to make it right without charge. I worked for the first time with Daryl Martin as my sales rep and even with him being new there he was very helpfull and I fell got me the best deal for my trade as well as lowering the purchas price of my new GMC 1500 SLT. I would reccomend him as well as this dealer to everyone wanting a good deal and a great experience at truck buying. Thanks!
My husband and I agree this is the best car buying experience we have ever had. We called about the vehicle we wanted to see, and it as parked right out front when we got there. Our salesman was never pushy, and we felt like he helped us get the best vehicle possible. We would both highly recommend Jack Giambalvo and plan to do our car shopping there in the future.
Our overall experience with Jack Giambalvo Buick GMC was good. We traded in a 2008 Chevrolet Cobalt LS, for a 2008 Honda Civic EX. Our sales consultant was Donald Cranston. He was very helpful and professional. We brought along some friends who knew a little more about cars to check out the Civic for us, and Donald treated them with the same respect as if they were buyers as well. The entire process was made easy to understand, and all of the employess we dealt with were friendly. It is for those reasons that we have given ratings of 5 for all but the price. We were able to negotiate an extra $500 for our trade-in, which was nice. The price was very competitive for everything we'd seen in the York, PA area. We only gave a rating of 4 for price, because there were a few comparable Civics within 50-75 miles listed a little bit cheaper according to autotrader.com from other dealerships. For the local market though, Jack Giambalvo was very competitive. We would recommend this dealer, and specifically Donald Cranston.
WOW...I'm the new owner of a 2011 Buick LaCrosse SDN AWD! From the very beginning to the final signing of the papers, our experience was awesome. Daryl and Ray were attentive to what we wanted in a vehicle. Never overpowering their position, but knowledgeable. John came through for us in the negotiation. He didn't down play the vehicle I was trading in, which made me feel comfortable. Lita was the final answer to our sale. She took care of the paper work, etc., with ease. The entire team is wonderful and professional. No one will appreciate this Buick LaCrosse more than me:) Thanks to all of you.
Get Directions To Our Dealership
Visit Our Showroom at Jack Giambalvo Buick GMC
Mon - Thu

9:00 AM - 7:00 PM




Fri

9:00 AM - 6:00 PM




Sat

9:00 AM - 5:00 PM




Sun

Closed
Mon - Fri

7:00 AM - 5:30 PM




Sat

8:00 AM - 2:00 PM




Sun

Closed
Mon - Fri

7:00 AM - 5:30 PM




Sat

8:00 AM - 2:00 PM




Sun

Closed