Why You Shouldn't Drive Around with a Chipped Windshield
You're cruising down the highway when a semi truck kicks up some rocks. Or maybe you're driving through a rock fall area, and one bounces down and hits your windshield. Maybe your buddy's car throws one up when you're following him down a gravel drive.
"It's just a chip," you tell yourself, "I'll get it fixed… eventually." However, windshield chips shouldn't be left unchecked. There are a number of reasons you shouldn't drive around with a chipped windshield. Here are the top 5 reasons you shouldn't drive around with a chipped windshield.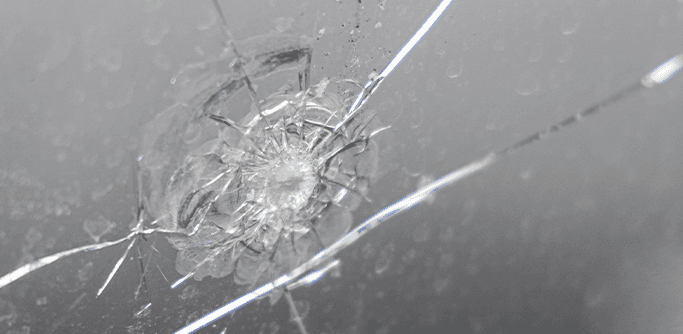 It Weakens Your Windshield
Just because it's clear doesn't mean the windshield isn't an integral piece of your vehicle's construction. A windshield provides a significant amount of structural integrity when you're involved in a front-end collision. In a rollover incident, it's even greater – up to 60% of the absorption of force is done by the windshield in these incidents! It supports the roof, preventing crushing and collapsing of the roof.
A chip in the windshield weakens the windshield, meaning that when it is needed, it might not provide quite the structural support that it is designed to do. This could lead to worse performance in an accident. The windshield also aids in the proper deployment of airbags, so a cracked windshield could result in less-than-optimal airbag performance. You bought your vehicle with some of the safety features in mind – why would you drive around with the safety compromised?
It Will Lead to Cracks
Left unchecked, chips don't stay small. These can expand to larger chips, and then extend into cracks. It's not a matter of if, simply a matter of when. It could be a drastic temperature change, hitting extremely low or high temps. Maybe you hit a particularly drastic bump or a deeper-than-normal pothole. Even just hitting a high speed, where more air pressure is pushing on your windshield, can change a chip to a crack.
Worse yet, the bigger it gets, the more expensive it is to repair! What was once a small chip that may have been a simple, or even DIY repair could turn into a full windshield replacement.


Chips are Distracting and Can Limit Vision
Depending where and how large the chip is – and if it leads to further cracking and spider webbing – it can begin to be a vision issue. Chips can collect debris that can distort vision. Cracks and chips cause reflection and refraction of sunlight, potentially creating glare. They can even just be distracting, pulling your mind and your eyes off the road ahead. Even if just for a second, this could be a crucial second, particularly in foggy, stormy, or otherwise poor driving conditions.
It Collects Dust, Debris, and More!
Dirt and debris can imbed itself in the chip, accumulating and causing it to enlarge. At the same time, the more that accumulates, the harder it is to make a simple chip repair. Allowing a small chip to fester for a period of time may even lead to a full windshield replacement even without increased cracking! If the chip is hard to clean out and fill to retain the structural integrity and clarity necessary, it may require a repair that is much more expensive than a simple chip fill would have needed!
It Might Just Be Illegal
In some areas, continuing to drive with a chipped windshield is grounds for a penalty or fine if an officer deems it. Some states simply say it's illegal to drive a vehicle that risks the safety of passengers or other drivers. Others explicitly require windshields to be free of cracks and chips. In many states, at the least, a chipped or cracked windshield will lead to a failed inspection.


So get your chipped windshield fixed ASAP! Avoid the headaches, safety concerns and potential for increasingly greater damage to your windshield that could get more and more expensive as time goes by. Come talk to us at Jack Giambalvo Buick GMC today about the best options for your car, truck, or SUV and get your windshield taken care of and back on the road.